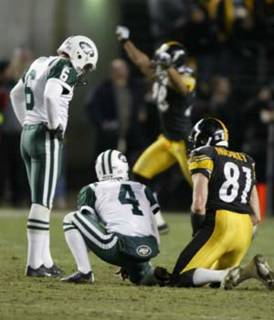 OUCH!
Jets fans may have a claim to being as long-suffering as Red Sox Nation. Eating dinner at
Katz's
last night (in full Steelers regalia), I got to enjoy maniacal mutterings- "Steelers Suck!" and long, hate-filled silent stares.
Here's the thing... the Jets
could
have won the game, obviously. But that doesn't mean they
should have won
. Neither team played that well, but the Steelers put together better drives and actually managed to score two OFFENSIVE touchdowns. It was a great game, but part of what made it a great game is that the more deserving team won. Interceptions and punt returns ought not be enough to win a game in the NFL playoffs.
Now, here's what's really going to piss off the Jets fans- this game was GREAT for the Steelers next week. Roethlisberger got to make mistakes and still come out alive, the secondary stepped up, AND now they don't have to be the undisputed favorite in whatever game they have to play.