"You wanted me to jump off the bridge, I finally have jumped. You wanted to bring me down...So now go pick a different person. I'm done."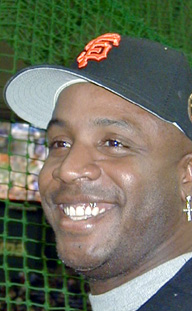 Poor Barry
. I believe in you, buddy. The world ain't ready for a black sports superstar....oh wait. Seriously, though, I really do think Bonds gets a tough break. He doesn't like people, we all know people like that, there's no reason why those type of people shouldn't be able to play professional sports. He's been modest with endorsements and the like because he doesn't want to put himself out there. I respect that.
In other baseball news, I hope you all got a chance to watch the steroid hearings...Probably the most bizarre 5 hours of Congressional action in a long, long time (no, the Schiavo stuff isn't bizarre, that's just fucking terrible). Even though
I hate Schilling
, I have to respect his command of the English language. He looked like Daniel Webster compared to to Sammy Sosa. Jose Canseco is a dirtbag, but everyone already knew that. He's has a great cameo in the hysterically dark film
Mail Order Wife
. Check it out. Also, I'm really happy that America is starting to realize what an opportunistic slimball Mark McGuire is. I'll never forgive the dirtbag for pretending like he was hero for juicing up and hitting meatball pitches out of the park....and the way he used the son he abused(?) only a few years earlier as a prop for his "American Hero" crap is just unconscionable. Am I going to get sued for libel yet? Wait, wait...
this
should do it. Mark McGuire murdered his infant daughter!