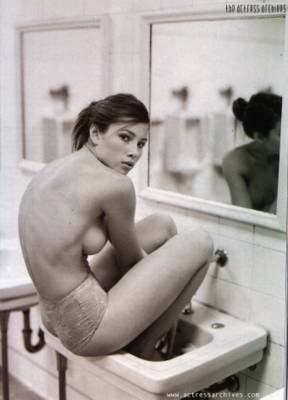 Jessica Biel is so hot. Congratulations are in order, as she has just been named
Esquire's "Sexiest Woman Alive."
The above photo is from her awesome photo set in
Gear Magazine in 2000
. That was the summer before she came to Tufts, and the photos had the student body (or certain parts thereof) very excited. Not only did every shot elegantly flirt the line between showing nipple and not showing nipple, but the subtext was that Biel was trying to break her contract with the Jesus freaks at the WB's Seventh Heaven.* She was in my Hollywood Comedy class....so hot...want to touch the heiny. Anyway, congratulations again to Tuft's most excellently proportioned daughter.
In case any of you need the above spelled out in antiquated SAT logic: Jessica Biel in Gear is to b-porn photos as
Blown Away
is to b-porn movies. Both are the best in their class, hands down. In case you don't remember. Blown Away has both Corey Haim and Corey Feldman, plus Nicole Eggert before she had her tits surgically enhanced.
If you need some connection to the pre-teen photos below....just remember that Blown Away came out in 1992 and went pretty quickly to heavy rotation on HBO. It held a special place in my heart (and pants) for many years.
*Speaking of which, does anyone else find it very unChristian the way the writers had Mary leave the show...the Camden's basically abandoned their daughter after she proved herself not up to the families baby-making standards. Now, they have a house full of needy, non-related children (all who happen to be kissing eachother in the broom closet), but their own child is just left to rot.